June Mendoza, A.O., O.B.E., R.P., R.O.I., Portrait Painter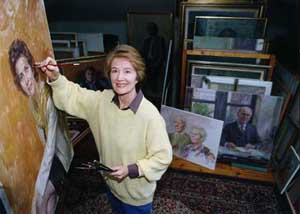 Member of Royal Society of Portrait Painters (R.P), Royal Institute of Oil Painters (R.O.I.), Hon Member of Society of Women Artists
O.A. Officer of Australia
Hon.d.Litt - University of Bath
Hon.d.Litt - Loughborough University
Freeman of the City of London

Parents: John Morton, musician and Dot (née) Mendoza, musician, composer etc., violin and piano respectively

Married: Keith Mackrell, formerly Director of Shell International and non-executive Director for various organisations
Four children: three daughters (Elliet, Kim, Lee) and one son, (Ashley)

As a child toured with mother - opera, ballet, musicals, revue etc.,. Worked in small mime parts and crowd scenes with de Basil Russian Ballet Company and sketched during class, rehearsals and performances.

By 12 years old, art was the obvious and unquestioned direction. Started life classes at 14.

By 17 was doing book jackets, magazine illustrations, town-planning exhibition artwork, record sleeves, some portraits and a monthly illustrated cops, robbers, guns, bosoms strip! Began professionally as an actress: theatre (West End), radio, film, TV etc.

Painting/portraiture took over and became full-time.

Two overseas postings with husband:

1960 - 1965 Philippines and 1969 - 1973 Australia
Extensive work and travel overseas

The story is best told by following list of people with whom I have worked, in a wide variety of fields and countries:
Royalty

Her Majesty Queen Elizabeth II (twice)
HM Queen Elizabeth The Queen Mother
Princess Royal - for the Royal Scots
HRH Diana Princess of Wales (twice)
HRH The Duke of Edinburgh - for Lord Taverners
HRH the Prince of Wales (three times)
HRH Prince Edward
Earl Mountbatten of Burma (1900-1979)
HRH The Duchess of Kent
His Grace the Duke of Norfolk, Earl Marshal of England


Religious Leaders

Frederick Donald Coggan, Baron Coggan - 101st Archbishop of Canterbury 1974 - 1980
Robert Runcie, Baron Runcie of Cuddesdon, 102nd Archbishop of Canterbury 1980 - 1991
Rt Hon George Carey, 103rd Archbishop of Canterbury, 1991 - 2002
James Thompson - Bishop of Bath and Wells


Members of the Armed Forces

Major General Bob Menzies - Royal Army Medical Corps
Major General David Joliffe - Royal Army Medical Corps
Major General Anthony Shaw - Royal Army Medical Corps
Field Marshal Edwin Bramall, Baron Bramall KG
Baron Inge KG - Green Howards (painted twice)
General Sir Peter Whiteley

Law

Baroness Hale of Richmond - legal academic, barrister and judge
Daniel Hollis QC
Donald Keating QC
Group portrait of the Temple Judges

Music, Opera and Ballet

Performers, Conductors and Composers

Sir Mark Philip Elder - British conductor
Dame Emma Kirkby
Andrzej Panufnik - composer
Andrew Van Der Beek - serpent player and founder of the Lacock Summer School
Barry Tuckwell - horn player
Christopher Monk - serpent maker and player
Sir John Dankworth and Dame Cleo Lane
Roger Vignoles, British pianist and accompanist
Wayne Marshall - Organ, piano, conductor
Karl Jenkins - composer
Dr Antal Dorati - conductor
Dr Jane Glover - musicologist and conductor
Edward Fitzgibbon - lute maker and player
Dame Elizabeth Maconchy DBE - English composer
Gerald Moore CBE - pianist
Gyorgy Pauk - Hugarian violinist
Jacqueline du Pre OBE - British Cellist
Larry Adler - harmonica player
Leon Goossens - British oboist (1897-1988)
Madeline Bell - African-American soul singer
Malcolm Williamson CBE - Australian composer
Marguerite Wolff - Pianist
Sir Michael Tippett - English Composer
Paul Tortelier - French cellist
Wayne Marshall - organist, pianist, conductor
Yehudi Menuhin - American violinist and conductor
James Galway - flautist
Stephane Grappelli
Sir Thomas Allen
Kangaroo Moon - Celtic and Australian Folk band
Sir Charles Groves - British conductor
Eric Fenby OBE
Sir Lennox Berkley - Composer (1903 - 1989)
Sir Malcolm Arnold CBE - Composer
Sir Richard Rodney-Bennett - Composer
Tony Palmer - Composer and Film Director
Sir Charles Mackerras - conductor
Georg Solti - Conductor (1912-1997)
Sir Colin Davis - Conductor
Terry Edwards - Former Chorus Master, Royal Opera House


Opera

Dame Eva Turner - Opera Singer
Francois Leroux - Opera Singer
Ian Partridge - tenor
Geraint Evans - Opera Singer
Gwynne Howell - Opera Singer
James Bowman - countertenor
Jessye Norman - Opera Singer
Joan Sutherland - Opera Singer
Dame Joan Sutherland and Richard Bonynge - Opera singer and Conductor


Ballet

Dame Beryl Grey - Royal Ballet
Ninette de Valois - Founder of the Royal Ballet
Dame Marie Rambert (Rambert Ballet)
Agnes Oaks and Thomas Edur - English National Ballet
Sir Peter Wright - Director Birmingham Royal Ballet


Sports personalities

Sir Alec Bedser and Eric Bedser - cricket
Chris Evert - former World No. 1 woman tennis player USA
Virginia Wade - former champion tennis player UK


Group portraits

The House of Commons in session (440 portraits) for the House of Commons
The House of Representatives (170 portraits) for New Parliament Building, Canberra
The Council of the Royal College of Surgeons (34 portraits)
The Presidents of the Institution of Electrical Engineers (53 portraits)
The Temple Judges (5 portraits)


Politicians and Statesmen

Heads of State

Baroness Margaret Thatcher - former Prime Minister of the United Kingdom, 1979 to 1990
Sir John Major - former Prime Minister of the United Kingdom 1990 to 1997
Corazon Aquino - Former President of the Philippines
Lee Kwan Yew - first Prime Minister of modern Singapore
Goh Chok Tong - Prime Minister of Singapore
The Hon Sir John Gorton, the former Prime Minister of Australia


Politicians and Statesmen

Lord Geoffrey Howe
Rt Hon Baroness Betty Boothroyd
Anne Widdecombe - British Conservative politician
Yong Pung How - Chief Justice of Singapore
Lord Jeffrey Archer of Weston Super Mare
House of Commons in session 1986/7
The Rt Hon Lord Gardiner, the then Lord Chancellor of England


Government

Dame Stella Rimington, DCB - former Director-General of MI5
Lady Valerie Kingman, High Sheriff of Bristol
Derek Wallis
Sir John Chalstrey - Lord Mayor of London
Councillor John Steele - Mayor of Winchester
Mansion House Banquet Reception Line


Broadcasting and Entertainment

Alistair Cooke KBE - British-American journalist and broadcaster
Floella Benjamin OBE - British television presenter
Miss Bluebell (of Paris Lido)
Angela Rippon OBE - British television journalist
Rolf Harris CBE - musician, artist, television host
Roy Plomley OBE - English radio broadcaster
Sir Robin Day OBE - British political broadcaster
Sir Terry Wogan - radio and television broadcaster
Tom Stoppard (playwright)
Richard Curtis - writer
Verity Lambert OBE - British television and film producer


Theatre & Art

Sir Alan Ayckbourn CBE - playwright
Alwen Harris - artist
Christopher Fry - dramatist
Anita Harris - actress, singer and entertainer
Sir Donald Sinden - actor
Janie Dee - actress, singer
Max Wall - actor, comedian
Penelope Keith - actress
Sammy Cahn - lyricist
Sammy Davis Jr - singer, entertainer
Sheridan Morley - writer, theatre critic and entertainer
David Threlfall (actor - Shameless) and Stephen Threlfall (music director/conductor)
Zoe Wanamaker - actress
John Amis - broadcaster, writer and classical music critic
Felix Aprahamian - music critic and writer (twice painted)
David Cairns - writer and music critic
Ken Loach - film director
P. D. James, Baroness James of Holland Park OBE - crime fiction writer and life peer
Gerald Scarfe - cartoonist and illustrator
Ken Howard - English artist and painter
Patrick Macallister - artist on selection day

Academia

Professor Alan Ryan - Oxford University
Professor Anthony Kelly - Surrey University
Professor Arthur Lucas - Principal, King's College
Sir Denis Rooke O.M. - Loughborough University
Lord Briggs of Lewes - Open University
Professor Brenda Gourley - Vice-Chancellor of the Open University
Dr Michael Berry - Christ's College, Canterbury
Professor Patrick J. Dowling - Surrey University
A.J.P. Taylor - Historian, writer, broadcaster
John Ashworth - London School of Economics


Medicine

Prof Sir Cyril Chantler - Guys and Kings
Sir George Alberti - Royal College of Physicians
Dr John Beynon - former principal of King's College
Sir Norman Browse - St Thomas's Hospital, London
Council of the Royal College of Surgeons


Business/Industry

Maarten van den Bergh - Lloyds TSB (2006)
Alan Harper - Baltic Exchange
Peter Tudball - Baltic Exchange
Angela Yeoman - Foster Yeoman Limited
Sir Dennis Rooke - British Gas
Sir Richard Giordano - British Gas
Sir Eddie George - Bank of England
George Paul - Norwich Union
Freddy Heineken
Lord Marshall - British Airways
Maarten Van Den Bergh - Shell
Michel De Carvalho
Sir Niall Fitzgerald - chairman of Unilever
Suliman S. Olayan
Robert Steele
Simon Murray
Lord Stanley Kalms - DSG International plc
Lectures:
Galleries, art institutions and societies in England, USA, Australia and Far Eastern countries. 'Lectures' are more precisely 'talks' on attitudes, approach, with anecdotes and an informal duologue with the audience which helps provide relevant material and at audience level and encourages participation.
Art criticisms, feature articles for art magazines, and television e.g. a half hour feature combining the painting of a portrait and dialogue with sitter, TV and radio commentary, news interviews etc., radio interviews, exhibition judging and openings.